Creating a 'sense of place' is often an ambition for developments, and yet there is no agreed definition, meaning it cannot be measured or benchmarked. We set out to make the intangible tangible, creating a managerial tool for everyday use.
View or download the PDF version here
What is Place Attachment?
Some places lie close to our hearts, whether it's the park where you played as a child or the place where you would meet with your friends. This strong emotional bond to an otherwise ordinary space is known as Place Attachment.
xx
---
xx
We've created an analytical methodology able to measure and prioritise the loyalties, feelings and perceptions of citizens about a specific locality.
Our unique hierarchical tool distils five key drivers of attachment with over twenty attributes across them, pin-pointing what it takes to create truly wholesome communities.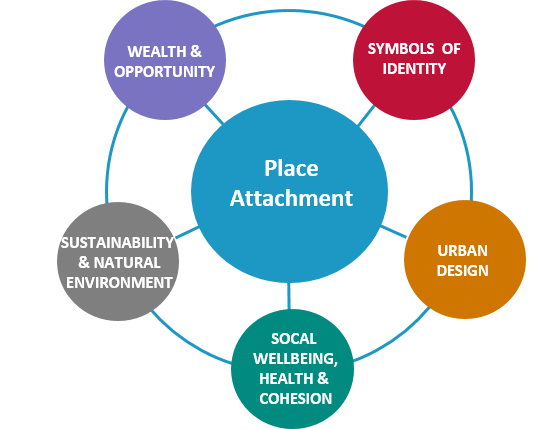 xx
---
xx
Benefits of using Place Attachment in BTR developments
One survey found that 95% of respondents would be willing to increase their budget by up to 10% for a property in an area with a strong sense of community and neighbourliness
Our own research has shown that using Place Attachment iteratively can be a valuable benchmark to track and compare the strengths and weaknesses of residential assets over time
Experts also found that increasing Place Attachment reduced resident turnover rates, having a positive impact on cohesion and sense of belonging
xx
---
xx
Data is just the beginning…
For us, leveraging Place Attachment is part of the first step to building better places.
It forms part of a wider approach where our analytics, insights and visioning capabilities converge to create future proof propositions for real estate.